The vertical boiler is a simple type which consists of a firebox at the bottom and a copper barrel with a smoke tube. It typically is used to drive stationary engines and boats. Firing is accomplished by alcohol or solid fuel pellets. More sophisticated versions of the vertical boiler contain many small tubes and are sometimes fired by coal or charcoal.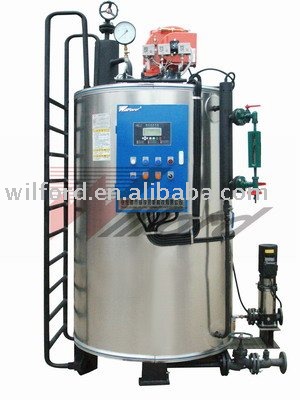 Package Boiler,Vertical Boiler / 200kg/hr
The furnace of this product is type of water tube penetrating flow, vertical three returns. Burner is on the top location, top burner-burning. Each part of fuel gas continually heat transferring through three returns, decreasing the exhaust gas temperature greatly, reducing the heat loss when preheating boiler at the time of startup and shutdown and to improve thermal efficiency. There are protective device controller, automatic resume contacts with the parts fuction,and dual-exhaust current thermal protection devices, enhancing the security functions.
1. Quickly startup, achieving high temperature and pressure in short time.
2. Nature circle, be able to endure different temperature.
3. Water level, steam pressure etc. many chain protection ways.
4. The structure design is perfect and excellent, covering small installing area.